I danced Martha's
Lamentation
(1930), Merce Cunningham's
Scramble
( excerpt, 1967), Lar Lubovitch's
North Star, 3rd Movement
(1978),
Shirabyoshi
( new work that I collaborated with
Tanroh Ishida
) and
Charlotte Griffin
's new work
13 Illustration: Out of Order
accompanied by
Senri Oe
.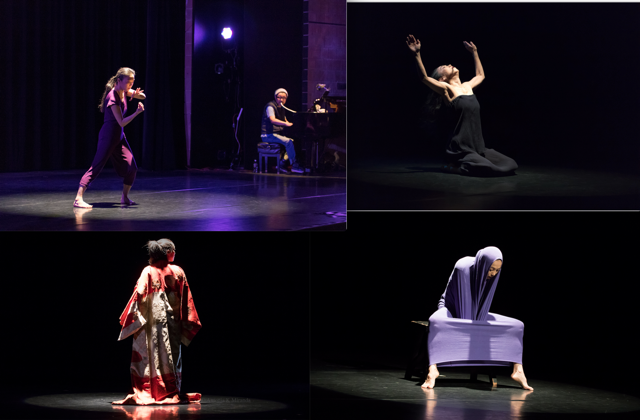 13 Illustration: Out of Order(TL), North Star(TR), Shirabyoshi(BL), Lamentation(BR) Photo by Antonia K. Milanda
In each work, I have so much to say but not here!!! If you are interested in, email me! miki3lotus ( at ) gmail.com
and please visit these two trailers!!!
This was their first professional modern dance concert held at the Renaissance Center.
HUGE SUCCESS!!!
In February, I had a pleasure working with Jean Colonomos who danced with Martha Graham Dance Company in 1960's. She wrote a play The THird From the Left, based on her experience dancing Martha's Primitive Mysteries. This work is my first Martha's ballet that I danced in 1985 when I was in Graham Ensemble. A reading of this play at Westbeth, I played a Japanese dancer in this play( of course!). That was fun! I love theatre and I got to tasted it!!!
I can not close this post without talking about my Summer. It was rather cold Summer for Tokyo, but I didn't mind. I actually enjoyed it!
I was on the panel talked about Martha. Miyako Kato was the other panel who talked about Trisha Brown. I was glad to see so many people were interested to know/learn about it. Curated by Kei Yasuda of Dance Cafe.
and now I am excited about 2018.
I can't wait! Let me know if you want to come!!!
email me!!!
Few more performance opportunities in 2018 so STAY TUNED!!!
and lastly