| | |
| --- | --- |
| The inaugural Nu Vu festival | |
The Big Success for Nu Vu Festival!
Thank you so much for all who came to see and share with our artists.
These are some beautiful moments from the inaugural Nu Vu Fesitval on Thursday May 17th at LPAC Littel Theatre. And hope you will join next time if you missed it this time!!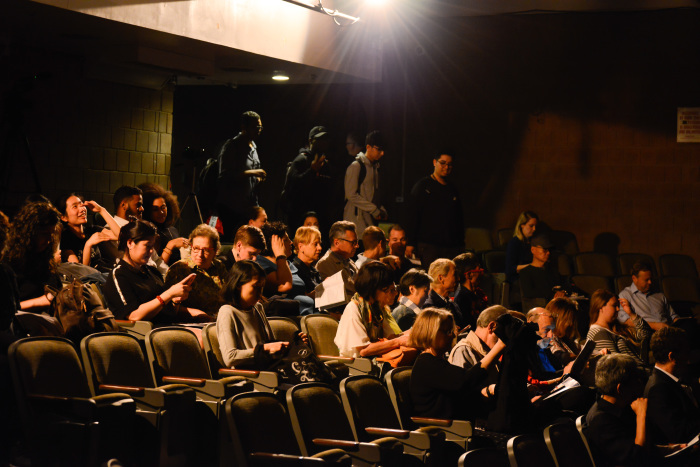 Audience is coming in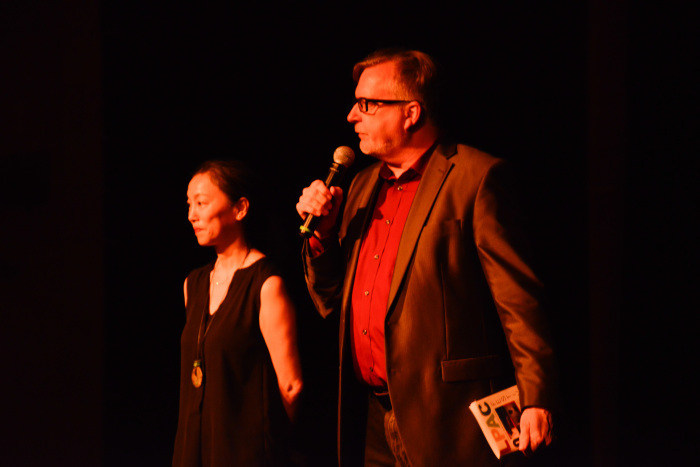 Steven Hitt, the director of LaGuardia Performing Arts Center and curator Miki Orihara opening introduction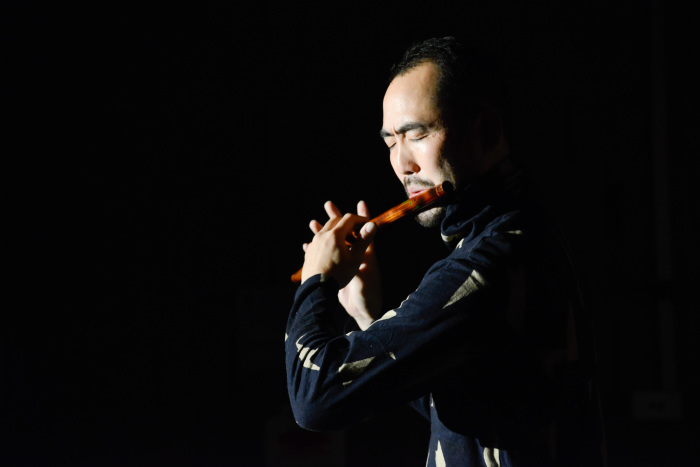 Opening ceremony by Kaoru Watanabe, performed Shinobue and Taiko Drum, it filled our space with beautiful sounds. Every culture and country has drum sound and dance. And so for me, dance and Drum are so
connected. So having him open our inaugural Nu Vu Festival was very special.
He put some heart beat - life in it.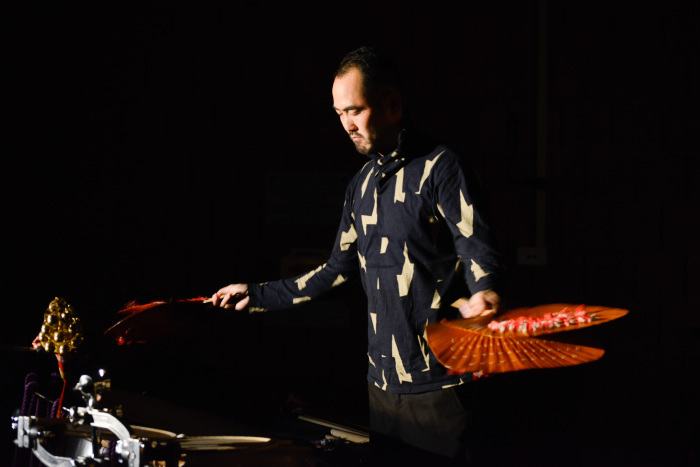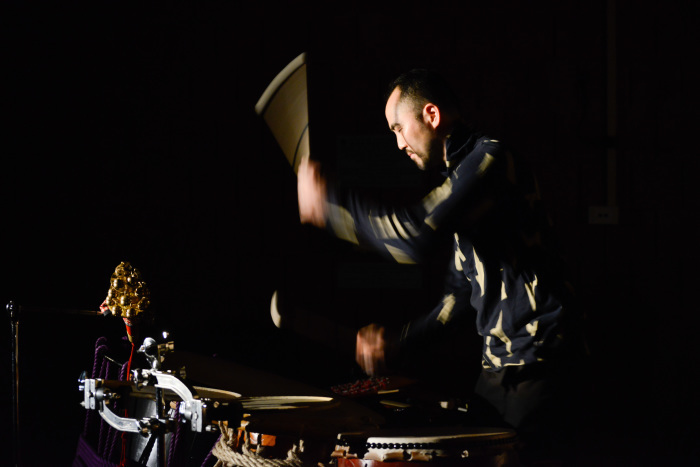 For dance, we opened with a duet Sospiri by Jacqulyn Buglisi ( Buglisi Dance Theatre) Virginie Mecene and Kevin Predmore. A duet is almost like Romeo and Juliette

of Argentine. When I was a young dancer, I danced Jacqulyn's work at the Graham School, when she had a baby I dance a lot of her roles in the Graham
company, and I danced in Buglisi Foreman Dance and met my husband Stephen. I learn so much dancing in her works - physically and mentally both.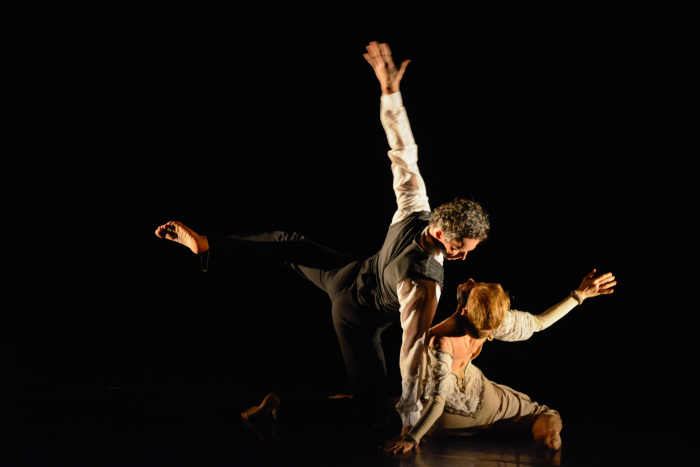 Masha Dashkina Maddux made a beautiful solo First Movement, inspired by Dancing Angel foundation's
founder;s story. Real story. When I met her, she was a very young, out of college, came tin to the Graham
company, I watched how she worked and I shared a lot of with her. Now she is in North Carolina, working as
a freelance dancer, and founded Wake Forest Dance Festival which opened last year. She has a hidden drive
to make things happens.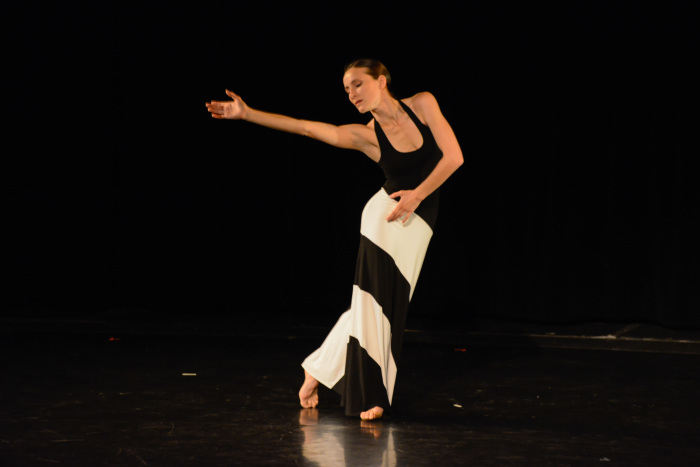 Lisa Thurrell brought her company, Kanopy Dance Company, from Madison, WI. Excerpts from her Miserere, gave sense of inside of church, lit with candle light at LPAC Stage! I know Lisa for a long time. I am inspired by what she does with her school and company. She and her husband Robert Cleary educate dancers, parents and audiences. Give them so much opportunities to learn from many masters' work, and new masters' work and how to be a dancer, dance artist.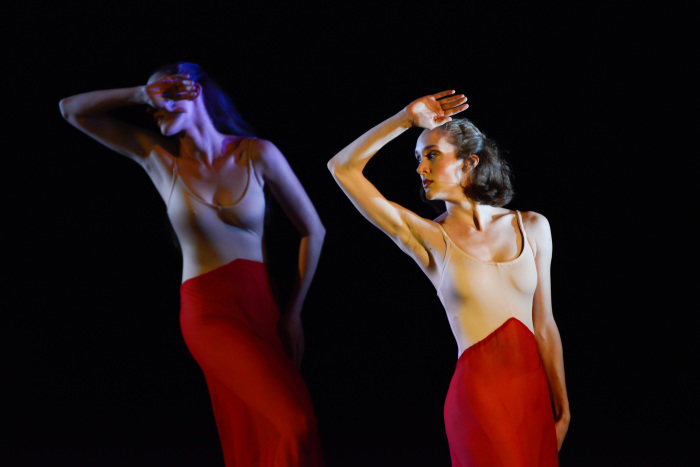 Charlotte Griffin's Real, Ideal danced by Calvin Bittner of Vivid Ballet. Charlotte saw something very special about Calvin, his sensitivity, wit and dreamer of him came out in this solo.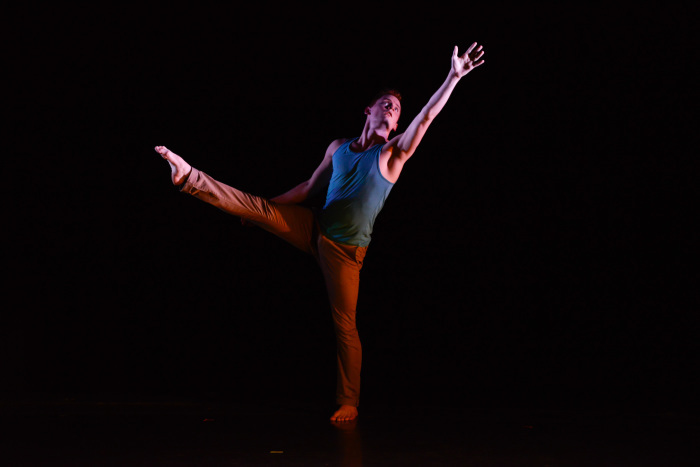 Space Between is a beautiful contemporary duet by Isaac Lerner. Danced with Marjorie Gross and Isaac himself. Both of them graduated from the Hartt School where my husband Stephen Pier is the director and I also teach at the school. Now he is choreographing for Opera Company in Iowa, his work is taking him all over.
*Space Between was made possible by the Rader Foundation for Young Artists.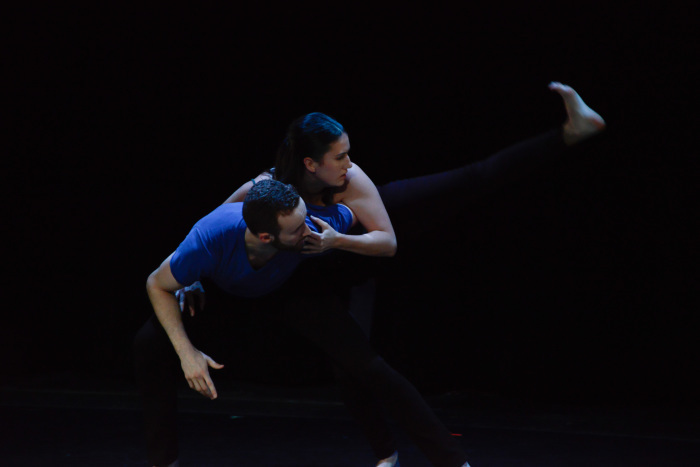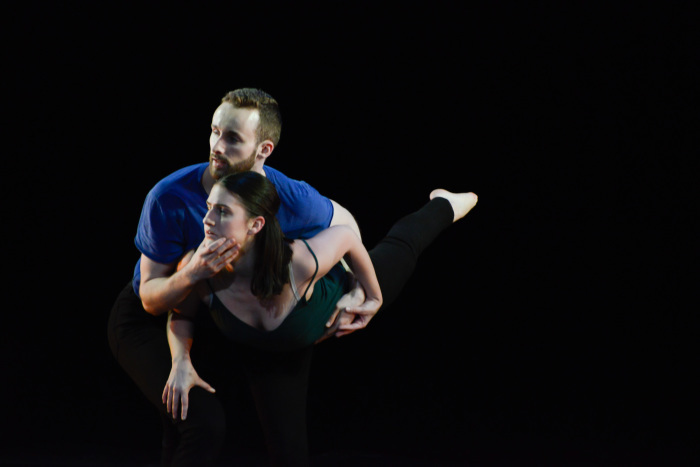 I met Troy Ogilvie when she was about 13, dancing in NJ Dance Theatre Ensemble. She went to the Juilliard, she was a manor force for Gallim Dance, worked with Sleep No More and more. Now she presents solo works. She is exploring. I love watching her journey. And this work a girl by Roy Assaf is so Troy. I was so happy to present her in Nu VU Festival. I can't wait to see what she is going to next!!!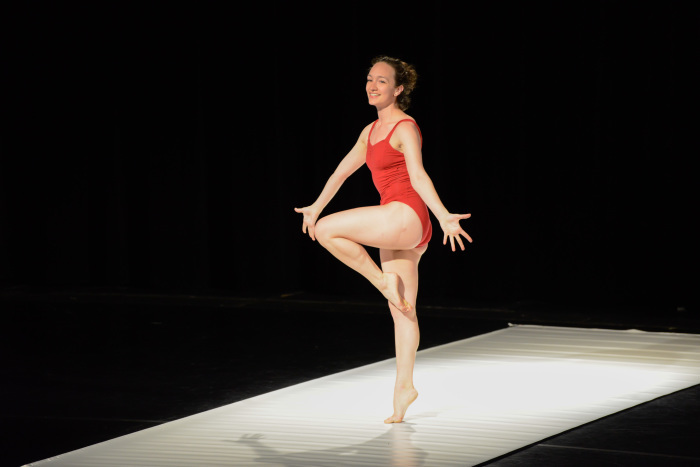 Jacqueline Dugal is one of the participants of Emerging Choreographer Series at LPAC directed by
Nicola Iervasi and Kevin Albert. I was on the panel, watched her work developed, and now ti see her finished
( or on going work!) work under was so interesting and happy to see it.
She brought 4 original dancers( Desiree Amadeo, Jessica Stroh, Louisa Pancoast and Issac Lerner)
and she herself danced in it.
With Tuce Yasak's lighting direction, it gave the idea of under water,
or under pressure, under all emotions.
*under was made possible in part by the Queens Council on the Arts with public funds from the New York City Department of Cultural Affairs in partnership with the City Council.
*under was developed during Mare Nostrum Elements' Emerging Choreographer Series.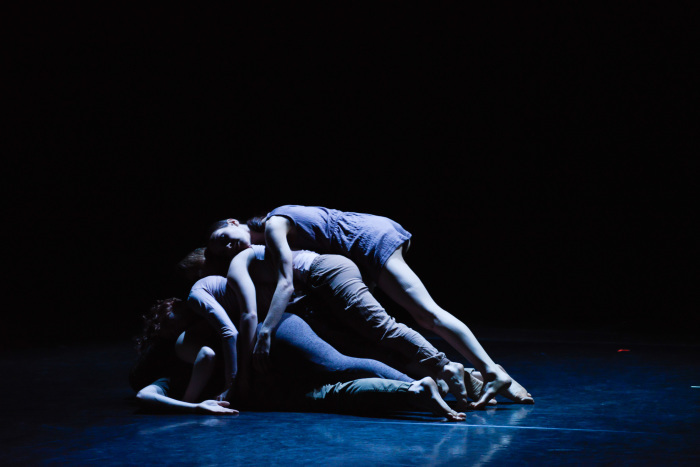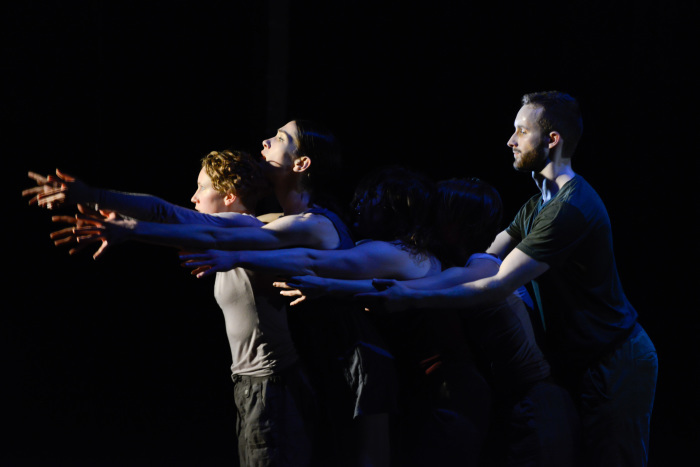 We closed our evening with Kaoru's Taiko and Shinobue.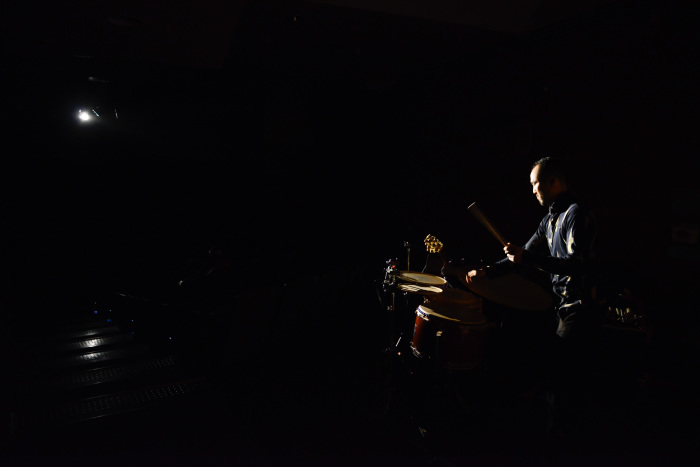 But this time, with dancers improvised all over the theatre!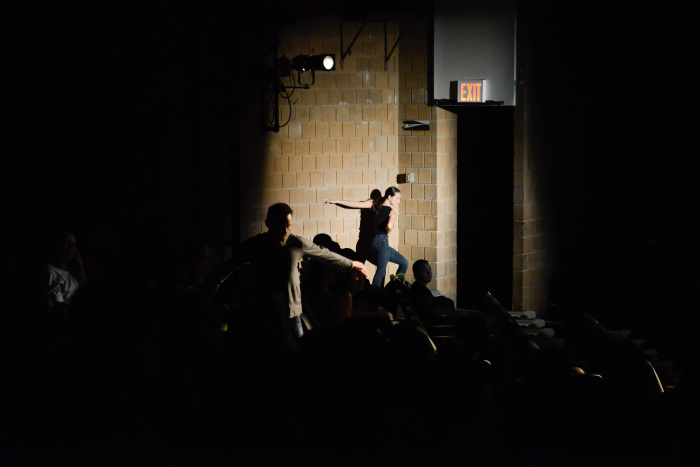 All artists come together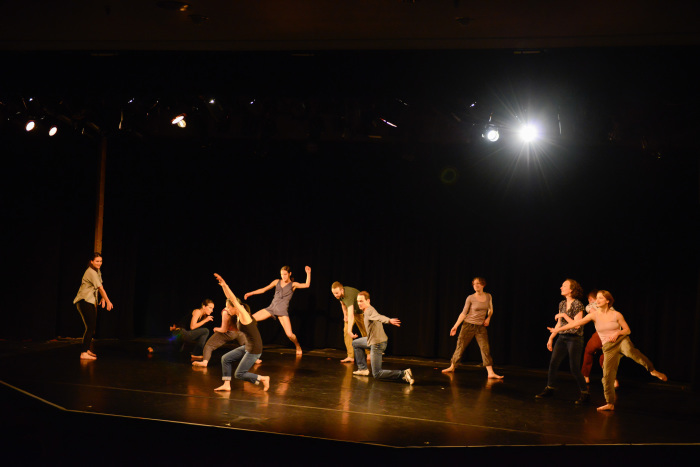 All artists come together.
This is what I wanted.
Connect:
Old to New
New to Old
Culture to culture
Artist to artist
Dancer to dacner
Human Being to human being!!!
At the after the performance reception, we can connect many friends, family, new friends... it was a great evening. Thank you ,Stephen Pier, Brad Orego and Yurie Anai for volunteering for this festival!!!





Thank you everybody at LPAC/staff

and

Steven Hitt for your vision, encouragement and having us!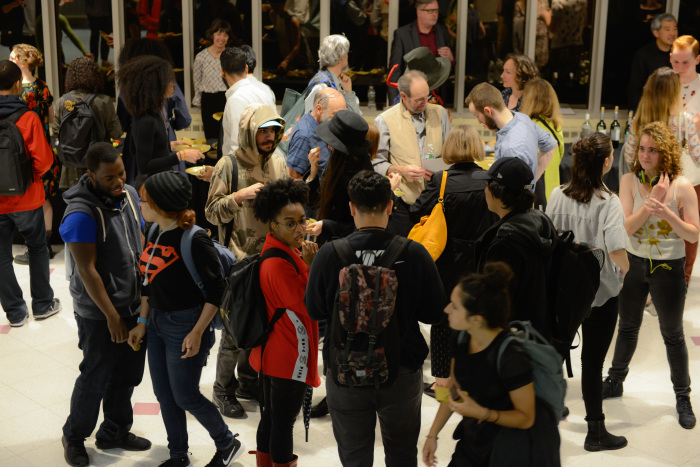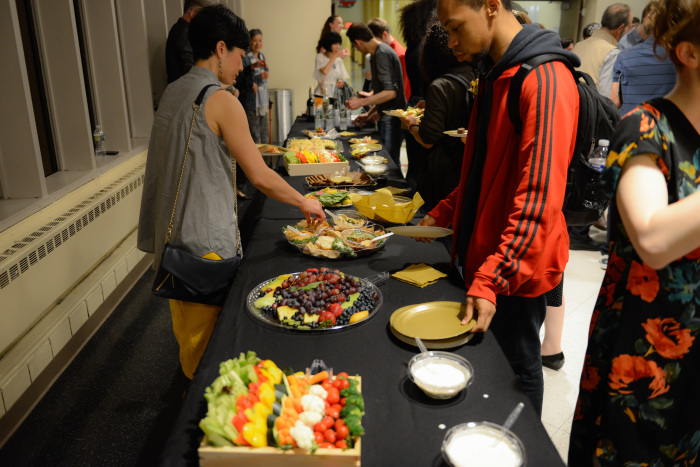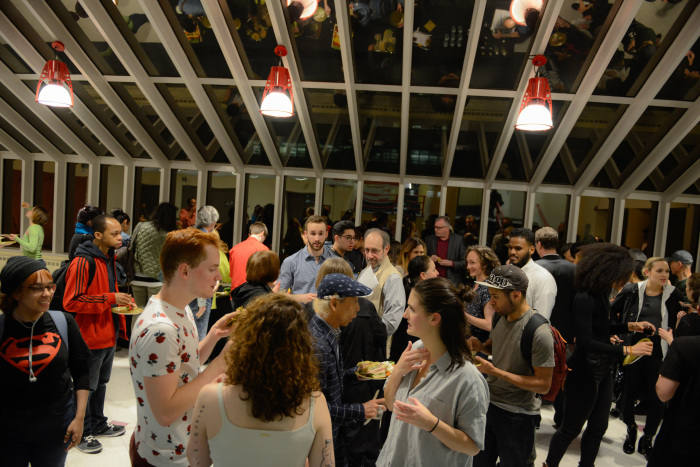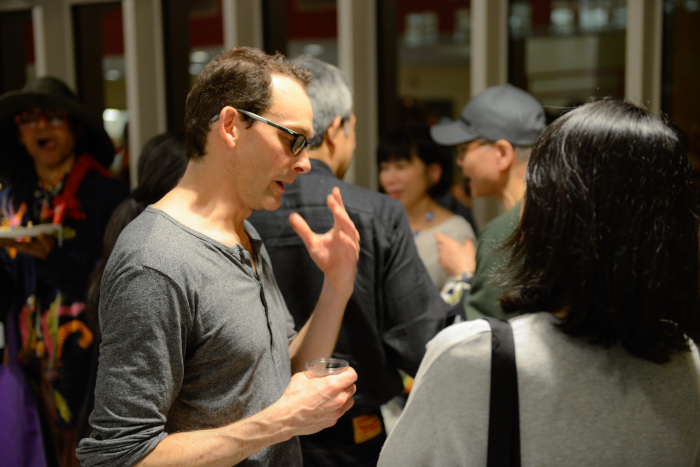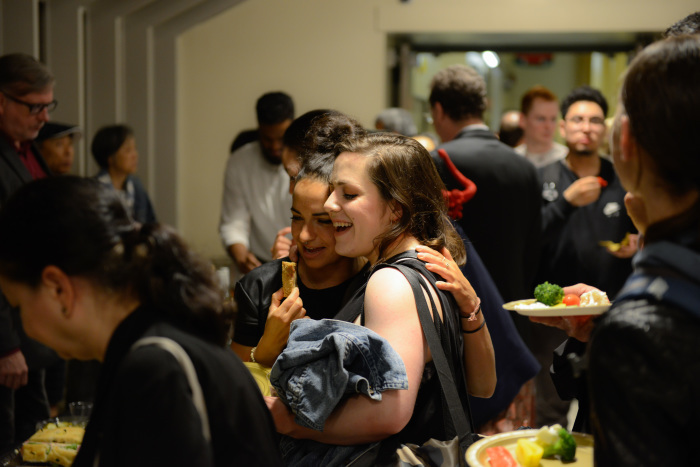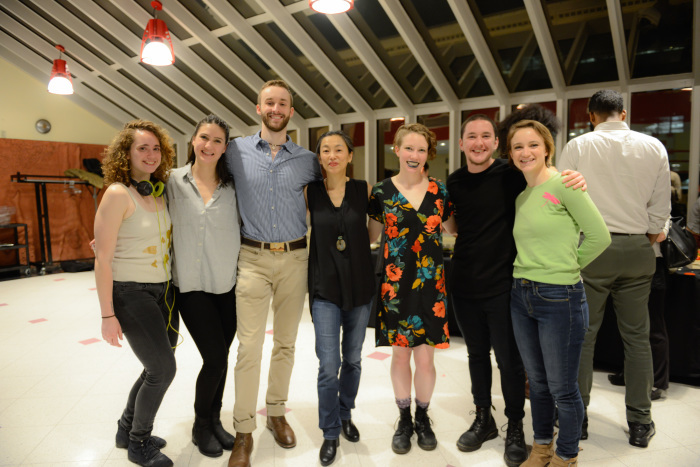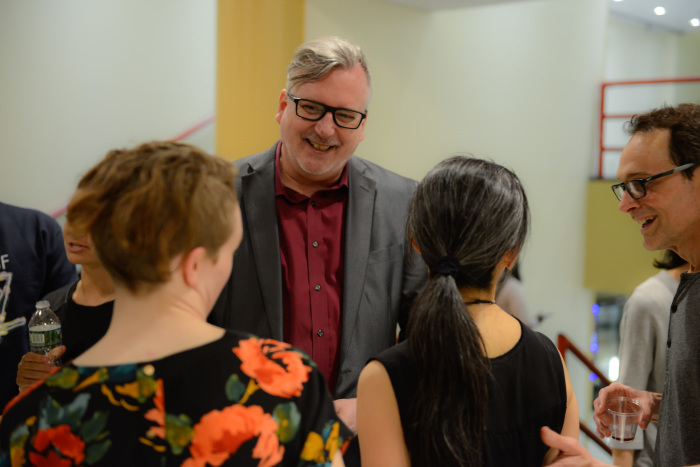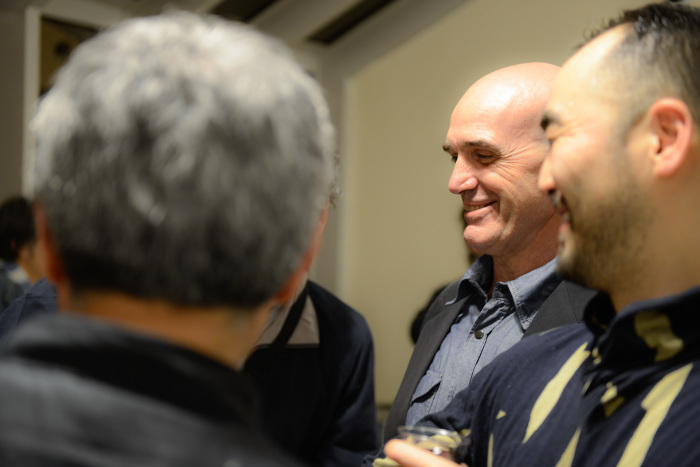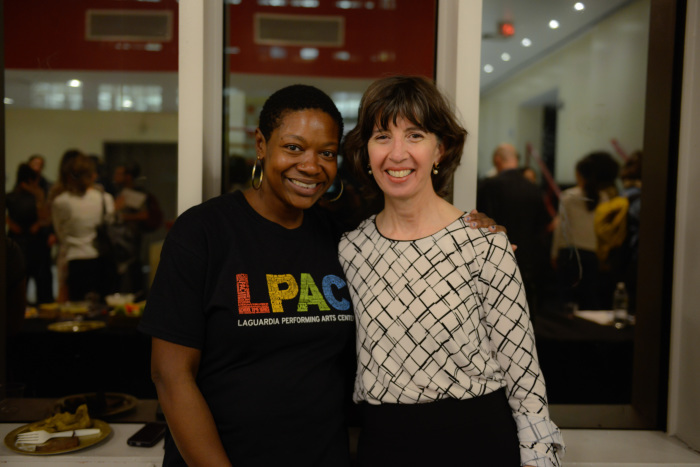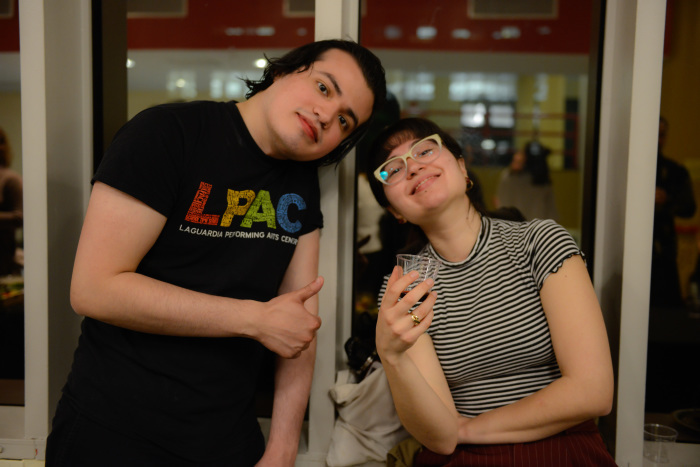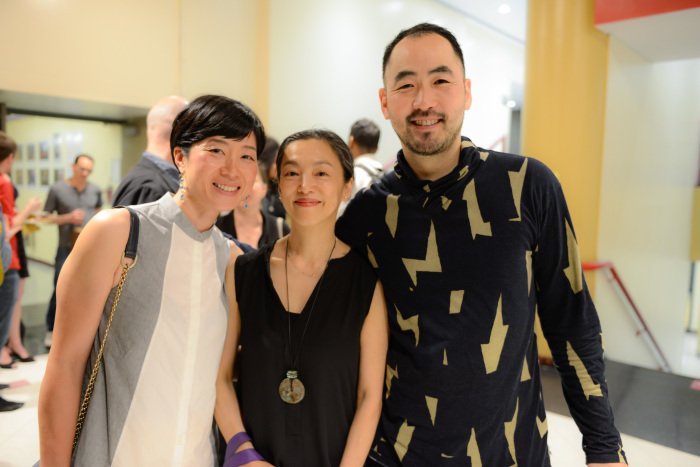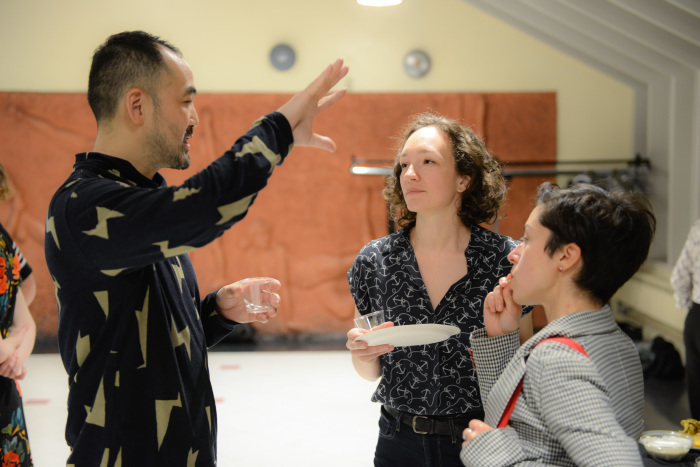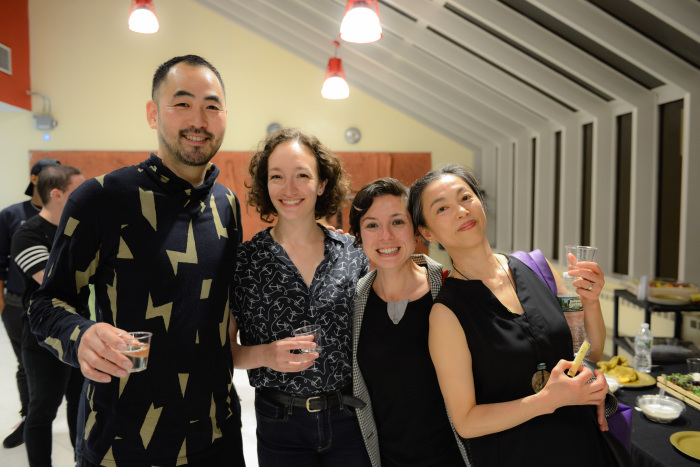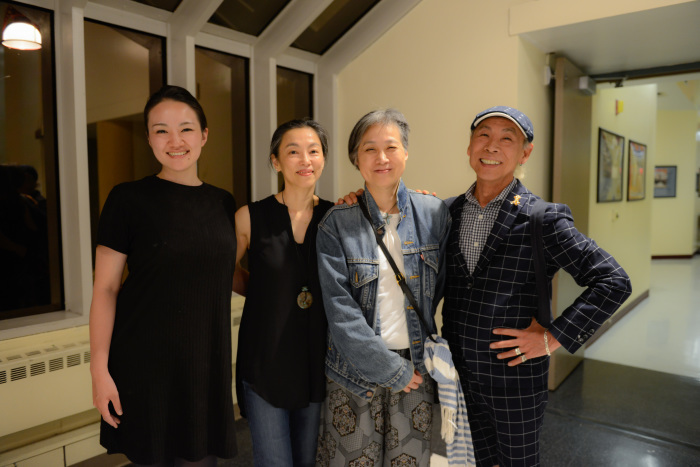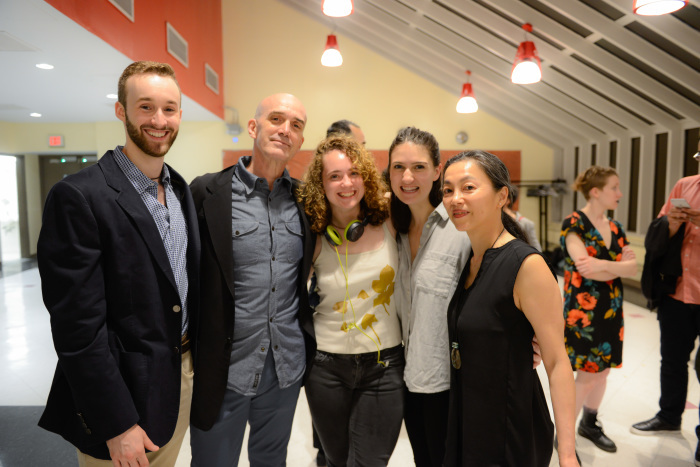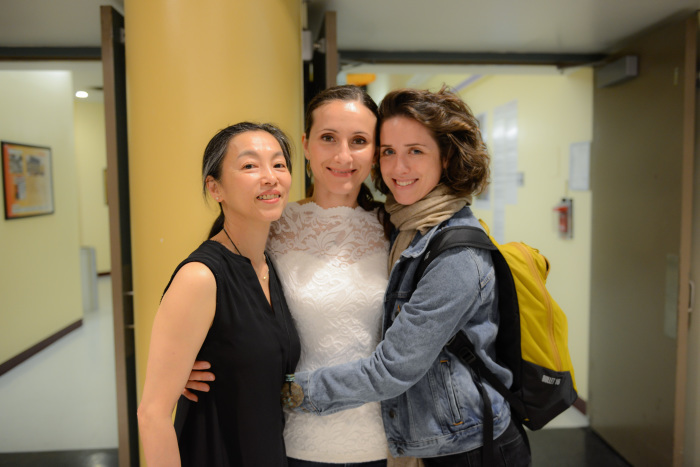 Now I am going to see many more dances to find dance artists for
Nu Vu Festival 2019!!!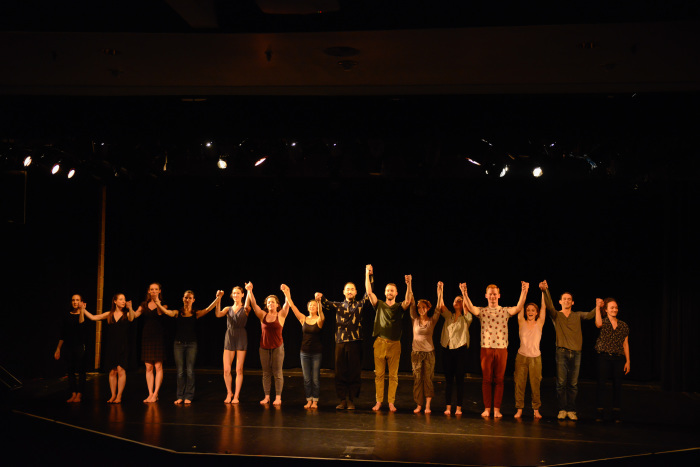 all photo by Tokio Kuniyoshi
LotusLotus.org ブログ中に広告が入りました。広告は私本意ではありませんので,皆様も気をつけてください。
by miki3lotus
S
M
T
W
T
F
S
1
2
3
4
5
6
7
8
9
10
11
12
13
14
15
16
17
18
19
20
21
22
23
24
25
26
27
28
29
30
ライフログ
カテゴリ
以前の記事
最新のトラックバック
フォロー中のブログ
Link
Lotus Lotus
PIER GROUP
Palmtree Inc
鍵盤弾きwakana
milkymama
Le Midi
ブタさん
あしたはアタシの風が吹く
単身赴任 杜の都 STYLE
John Deane Photo
Tomobubby's Travel
ぺすっちょん劇場
ニューヨークブロガーズ

Princess Diary 2

Maki's Diary

ワンクリックで、下はあなたに代わってホスピタリティネットが、東北関東大震災義援金「日本赤十字社」に寄付いたします。
Unrelated Comments and TB will be removed.
Thank you
検索
その他のジャンル
外部リンク
ファン
記事ランキング
ブログジャンル
画像一覧