ギリシャ人のダンス関係の女性と一緒に写真を撮っています。
I posted in September 2006 when I danced Medea at Acropolis, Greece.
I met this lady right after the performance.
There is another Asian dancer so when she looked at me, I told her " I danced Medea"
since the other dancer danced lead in other dance.
She replied, "I know you danced Medea. I know the Dance. You are very good. Remember that."
Today, I connected a Greek friend on Facebook and I ask her about this lady.
My friend told me :
She was a very famous choreographer and musician!
She was the one who always choreographed the Olympic Flame ceremony in ancient Olympia!
She was one of the most famous choreographers and dancers of her generation!!!
So, I wanted to remember her so I will post this.
R.I.P. Maria Horss
I wish i had more times to meet her and learn from her...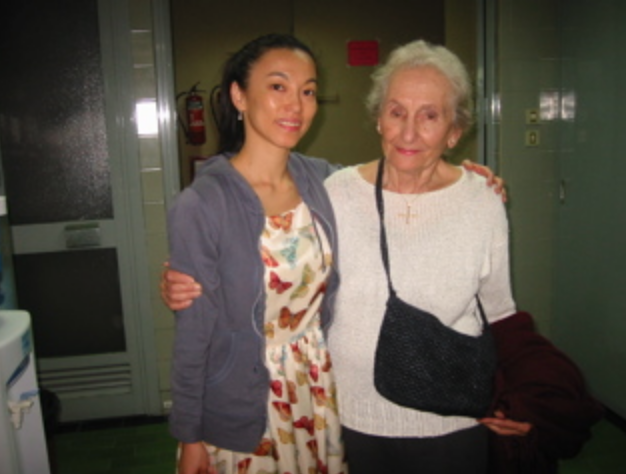 今日、フェースブックで繋がったギリシャ人の友達がいて、そうだ、聞いてみようと思って話をしました。
Maria Horssという方だそうです。ギリシャで、一番有名な振付師だったそうです。
2015年に亡くなるまで、1936年からオリンピックの灯火セレモニーに関わっていたそうです。 
初めは巫女さん(プリーステス)として、そのあとは振付師として。 
アクロポリスの舞台でメディアを踊った後に、楽屋に来てくれて、「自分はダンスのことをよく知っている。
あなたはとても良い。覚えておきなさい」と言われてびっくりしたのを思い出します。
なぜかこのことをずっと覚えていました。
そして今日、この方が誰かがわかってびっくりしました。
彼女のことを忘れないように、ここに残します。
Maria Horss, who took part in the first Olympic flame lighting ceremony in Olympia in 1936 and was its choreographer for more than 40 years, recently passed away, according to the Greek Olympic Committee.
She was 94 years old and the last surviving "priestess" from the 1936 ceremony, according to Greek reports and insidethegames.
Horss was a young teen when she first associated with the Olympics in the lighting ceremony for the Berlin 1936 Games, the first to incorporate the torch relay.
She directed the artistic presentation of the ceremony from 1964 through 2006.