After Iceland was Amsterdam
June 30th, I had my solo cocnert
RESONANCE
short version at
Cafe Belcampo
アイスランドの後にアムステルダムでした。
6月30日は大江千里さんもニューヨークから飛んできてくれて、ソロ公演の短いバージョン、プラス千里さんのピアノソロをベルカンポにて!たくさんの方に来ていただけました。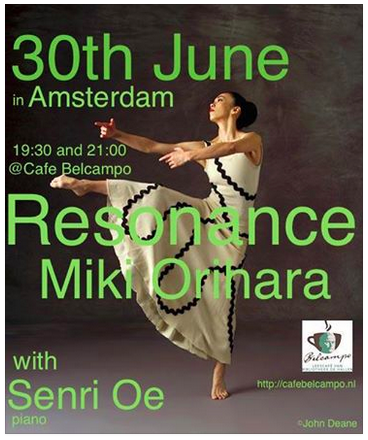 Senri Oe
came to join me. After "Resonance", he played his half hour solo piano.
It was beautiful.
The Hartt School Dance Division
dancers, Hannah and Isaac helped me.
They danced Imporovisations between my works, brough my plops too!!!
メモリーカーラントから始まり、プロローグ、そしてノクターンを踊りました。いつものとは反対の順番です。サイク品の間は千里さんのリフレクション。その時にハートスクールのダンス科の生徒のハナとアイザックに即興を踊ってもらいまいた。この形も"RESONANCE"の新しい形としてとても良いものでした。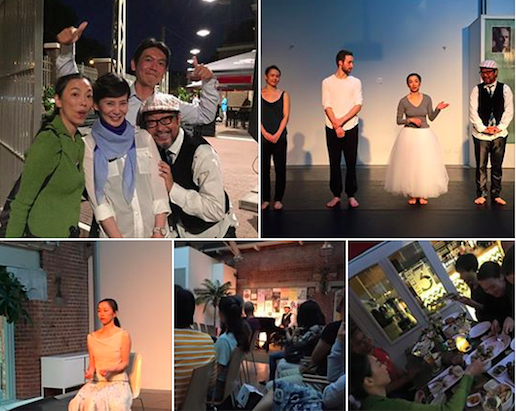 After Amsterdam, I got back to NY, then off to Seattle.
アムステルダムから戻り、次の日にシアトルに飛びました。
July: I worked with beautiful Julia Burrer on Martha's work "Lamentation"
at
Chamber Dance Company,
University of Washington
working with Julia and the director, Hannah Wiley was so nice!
She perfromed in October concert.
7月:ワシントン大学の中にチェンバーダンスカンパニーというのがあり、10月のコンサートのためにジュリアというダンサーにマーサの作品で"Lamentation"を教えに行きました。背の高い彼女(私の左です)に教えるのですが、やはり背が違うとこうも違うのかと、いろいろなことを学びました。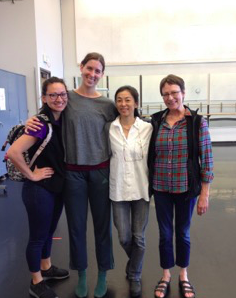 from L to R, Dominique See( who is Hannah's assistant), Julia and Hannah.
左からアシスタントのドミニク、ジュリア、私、そしてディレクターのハナ。
とても素晴らしい学校、そしてカンパニーです!!!
マスターを取りに私も行きたいかも・・・
August: SF
8月:サンフランシスコ

I went to SF to work with Yuriko Doi and
Jairo Heli Garcia
on
Mystical Abyss
This is Multi-media, cultural, music and performance. As you know I am a dancer, but in this work,
I had to dance, act and speak.
サンフランシスコに10日間行きました。今回は 土井由里子さんの作品。
9月に公演のある、今回の新しい演出では振り付けも新しくなるとのこと。メキシコのグアダラハラから来ているハイロの振り付けを習うべく、そして演技、声の出し方などを前もって。。。
So the first idea was join the cast in Denver in September, learn it and perform within few days...
I don't think so.
since I have to learn new choreography by Jairo, who choreographed for this new version
He is from Guadalajara, Mexico. He has a dance company, school and dance festival...
His background is Aztec/Tap/Contemporary/Hip Hop/Salsa/Club...
you name it, he put everything in it...
はじめはビデオを見て、9月にキャストが全員集まる時に行って、数日間で習って公演・・・
という話でしたが、踊りもあり、演技も、声も・・・
絶対それはない!
と、前もって、学びたい!とお願いしていってきました。
ハイロにも来てもらって。で、このハイロの振り付けが・・・
彼はアズテックという先住民の血を受け継いでいてその伝統的なステップ、そこにバレエ、コンテンポラリー、ヒップホップ、クラブ、サルサなどを入れて・・・
私のことをご存知方はこれを見るだけでもびっくりすると思いますが、わたしは今まで日本舞踊とモダンダンス、数ヶ月のタップを習ったきり・・・よって、この新しい振り付けをもらった時、自分の足を踏むわ、一箇所にとどまらないわ、なかなか覚えられず、3日経ってできなかったら、断ることも・・・と考えていました。
And I have to learn some steps that I have never done before...
I stepped my foot, felt like a three year old... it was very close to quit this job...
i gave myself few days... actually it took whole 10days ( i still coudl not do it)
Then I have to go to Japan, so I practiced in Japan too...
今までやったことのないステップ・・・一体どうなるのだ!でもここで負けてはいられない。と日本にいっている間も練習するのみ!と断らずに日本に飛びました。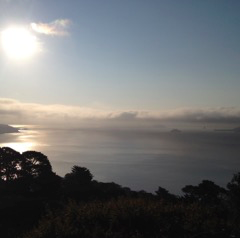 So this 10day trip was jsut to learn his choreography and some acting.
Yuriko-san was so very patient...
And some nice relax time( if i could relax not thinking about this new choreography...)
もちろんこの10日間、多少はリラックスする時間も・・・由里子さんのお家のバルコニーで、サンフランシスコをバックにディナー。これがなくてはやってられない・・・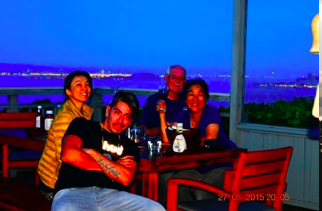 the last day in SF, Yuriko-san and Jock-san took me on their yacht!!!
This is a Yacht called "AMERICA" the first ever win the American Cup.
That is why it's called American Cup. We passed by!!!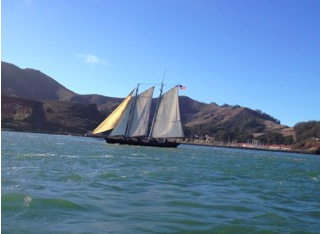 And I met with my friend Lucia!
We went to Ailey School together!!! and now she is a PT!!! living in SF. So I asked to come along with me on SF sailing!!!
アルビン・英リーの学校に行っていた時の同級生(1980年)のルチア!彼女は今フィジカルセラピスト!サンフランシスコに住んでいます。セイリングに誘って、一緒に行きました。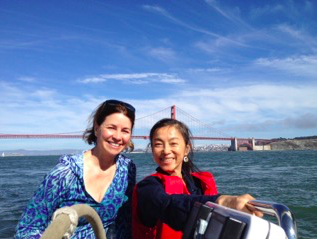 ***********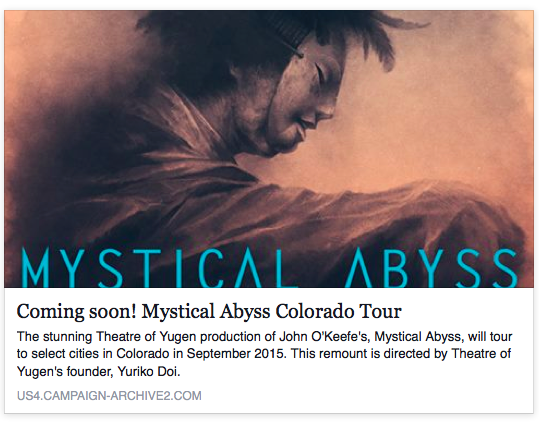 Written by John O'Keefe
Directed by Yuriko Doi
Choreography by Jairo Heli Garcia
Music Composed by Narumi Takizawa and Kenny Perkins
Animation by Taketo Kobayashi and Koya Takahashi
Lighting Design by Stephen Siegel, Adapted by Allie Khori
Costume Design by Risa Lenore Dye
But
Before Denver, I went to Japan
でも、デンバーに行く前に日本に行きました。
September: I went to Japan for 5 days.
Working with
Megumi Namakura
on
Yokohama Red Brick Warehouse Dance Working Program
I taught Graham technique open classes and for actors
5日間だけでしたが。横浜赤レンガダンスワーキングプログラムの一環で。
それは
NDT
ネザーランドダンスカンパニーにて踊っていた中村恩恵さんがディレクターでした。
わたしは一般のクラス、俳優養成所のクラス、そしてプロのダンサーのクラスを教えました。

and special workshop for professional dancers.
with Megumi,
Yasuyuki Shuto
,
Ryo
and
Tamiyo Kusakari
It was very special. I have to write separate post on this!
このプロのダンサーのワークショップには恩恵さんをはじめ、首藤康之さん、りょうさん、そして草刈民代さん参加のクラスでした。このクラスに関してはまた別に書きましょう。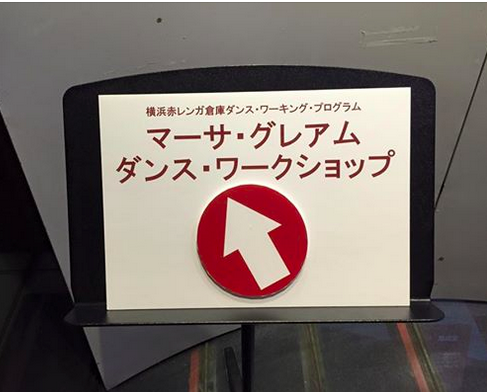 Wakana Miyano and Mica Nozawa accompanied my classes.
I always love having live music for my classes.
Yes it is modern dance but it makes 100% difference!

宮野わかなさんと作曲家の野澤美香さんに伴奏をお願いしました。
モダンダンスのクラスですが絶対わたしは生の音が好きです。クラスを取っていても違う!
今回もありがとうございました。


Open classes was regular technique class. Class for Actor's School was very interesting.
I sometime teach at SITI Company I love teaching for actors!!!
So this time, I taught some Graham exercises and few parts from Marhta's work "Heretic"
It give them to think about how to use/decide space, communicate with others within three steps,
and focus to one place during excuting your task.
It is a very hard exercise but great for them!!!
This is from the last day of technique class!

俳優養成所のクラスはわたしが時々教えるSITIカンパニーでのクラスと同じようなクラスでした。
俳優さん、志望の人に教えるにはダンサーに教えるよりはこのクラスを通してスペースの使い方、他の人との関わり方、表現方法と、いろいろな面からを探っていくクラスになります。ダンサーになるのではないので、フォーカスを違うところに持っていきます。

この写真は最後の日のテクニッククラスの後です。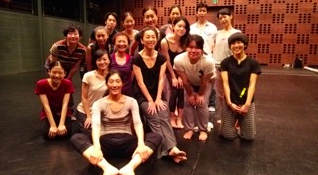 Thank you all dancers and Megumi!
to be continued...
続く・・・